Usurp Zone5 Film Festival
14 – 17 August Exhibition Screenings
Multiple screen exhibition – Free – 3pm to 6pm every day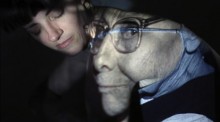 Against – Sally Waterman | 5:00 | Britain Playing with the perception of family memory through a series of repetitive gestures, performed by the artist in response to Donna Mckevitt's musical score, 'Translucence', based on Derek Jarman's writing. The desire for attachment is implied as Waterman attempts to embody the projected images she took of her grandmother, just before she died twenty years ago.
Avalanche – Michael Fleming | 10:00 | Britain An experimental, hand manipulated, found-footage, cameraless 35mm celluloid collage film about the perpetual image flood we receive daily. Loaded with iconographic images of consumerism and amusement. The film releases an overflow of our own popular culture to the viewer.
Behind the screen – Saravana Selvam | 7:28 | India An experimental short film about the human evolution from stone age to atomic age.
Ben – Kuesti Fraun | 1:00 | Germany About running, about being behind, about big moments, about daily life…
Cablewall – Shunsaku Hayashi | 6:00 | Britain Webs of cables covering over where men lives create a human territorial space, the webs divide civilized and uncivilized beings.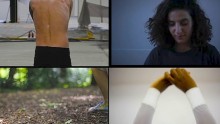 Can We Dance for Me? – Onyeka Igwe | 4:18 | Britain A screendance piece, exploring internal understandings of the self through movement.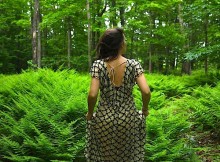 Catalysts and Aftershocks – Jessica J Giacobbe | 4:40 | United States Memory induced explorations of places not weighted with nostalgia because they still contain great potential for discovery.
Circuit Bent Megadrive Rewire by Psychiceyeclix – Damian Lintell-Smith | 3:59 | Britain Mutated audio and visuals produced simultaneously using circuit bent Megadrive video game consoles.
Disciplinary Institutions – Melanie Menard | 6:51 | Britain In 'Discipline and Punish', Michel Foucault defines 'Disciplinary Institutions' as places where people are made obedient through the preemptive repression of any deviation from the norm. This is an exploration of places used to make undesirable and/or helpless people disappear discretely such as Magdalene convents (used to imprison women), mental asylums (where queer people and gender deviants were subjected to forced 'treatment') and workhouses. Long gone inmates keep imprinting these places long after they are dead, and a malevolent aura is cast by those buildings in collective memory.
Dragway – Adam H. Marchand |5:00 | United States Ersatz nostalgia inherent in Hot Rod Culture and television. Shot on 35mm with donated film and a borrowed camera filmed at the New England Dragway in Epping, NH. The audio is a collage of sounds culled from pop culture (Happy Days, The Twilight Zone, La Jetée, etc.) and documentary recordings/interviews conducted over years at car shows.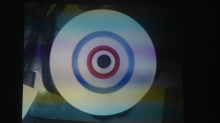 Drink Sky On Rabbit's Field (Lost Control) – Arnont Nongyao | 6:55 | Thailand All things link to rational and un-rational.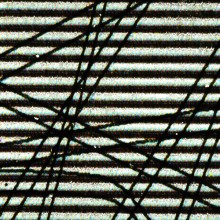 Escrituras – Scott Fitzpatrick | 2:48 | Canada "In order to achieve abstraction, I thought it was important to find a graphic system that would allow me to codify a reality rather than represent it." An imitation of Jesús Rafael Soto's kinetic op-art sculpture of the same name, laser printed onto recycled 16mm film in 2015 (double-sided). Escrituras is a cameraless animation that seeks to dazzle your eyes and damage your speakers.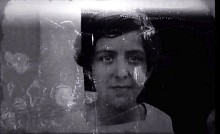 Everything makes love with the silence – Hernán Talavera | 2:24 | Spain An incursion into Alejandra Pizarnik's dark world through the amateur silent cinema. On September 25th, 1972, at the age of 36, the poet ended her life by taking an overdose of Secobarbital sodium during a weekend leave pass from Buenos Aires psychiatric hospital. Now, Pizarnik is considered one of the most important lyrical and surrealistic poets in Argentina. The film comes interweaves three of her short poems, confronting words and silence, light and obscurity.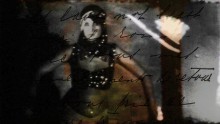 Eye of the Dawn Lost found – Nazare Soares | 8:21 | Britain An exploration into the legendary Mata Hari, the exotic dancer shot as an alleged double agent a year before the end of WW1. Taking as a starting point the fact that there is no footage in existence of Mata Hari in motion, and the fact that she was first and foremost known as a dancer, creating this 'lost' footage using a 16mm camera is a step towards a creation of a ghost of Mata Hari all these years later. This experimental short documentary is a collaboration between moving image artist Nazare Soares and performer Sarah Saeed.
Fag – Scott Fitzpatrick | 4:45 | Canada "Really, when it comes to gay rights, there's two wars going on. The first war is political, but the culture war is over." – Dan Savage. How do you transgress in 2015? Don't bother. A personal Venn diagram, a conceptual cobbling together of interests and identifiers, a sound and animation experiment rendered in all 260 fonts on a MacBook.
Familiar Taste: A Prayer – Karl M.V. Waugh | 9:50 | Britain An hypnotic, psychedelic, visually abstract journey, rewarding concentration and giving the viewer subtly distinct audio affects depending on the exact concentration of vision, paired to an equally hypnotic drone soundtrack.
Ferry Passing – Eisuke Yanagisawa | 5:32 | Japan This one shot film focuses on the interaction between nature and objects around the small uninhabited island in Japan. All the sounds of this film are unprocessed field recordings using an Aeolian Harp of made by the filmmaker and installed on the island.
Framestorm – James Pomeroy | 3:05 | Canada Shot frame by frame on super 8 using a pixilation of surfaces technique. Using coloured signs as a source material – the camera, frame by frame, jumps wildly or orderly,as the case maybe, over surfaces, creating a sense of movement from motionless material. It is an experiment in colour, rhythm and movement. It is also an experiment in total improvisation, inspired by the Free Jazz compositions of Ornette Coleman. Besides the single frame technique, the variations on a theme approach to each brief segment and a decided presence for primary colours, everything else about the film, both content and technique, was chosen on the spot and improvised upon.
Garden of Stone – Sasha Waters Freyer | 4:15 | United States A kaleidoscope of sights and sounds from Noto, Sicily, known as the Garden of Stone in honor of its baroque architecture – an experimental love letter to early Peter Greenaway in three rhythmic intervals.
Ghost House – Melanie Menard | 5:09 | Britain Shot at several abandoned houses in Ireland, whose last occupants probably left 10 to 30 years ago. Traces of their lives, aspirations, and the disillusions and hardships that made them leave their homeland, remained in the form of scattered personal belongings.
Gridlock – Morgen Christie | 1.37 | United States Flashing graphics.
Int – Gabriel Rud | 00:38 | Argentina Sphere, white, ink, motion, sound.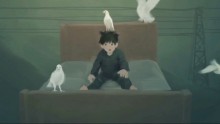 L'envol – Hajime Kimura | 4:00 | France The bird in its cage dreams of cloud.s
Let Me ASMR You – Clint Enns | 2.20 | Canada Rhythm study using ASMR (Autonomous Sensory Meridian Response) inducing sounds from videos found on You Tube.
MISt – Allan Brown | 4:55 | Canada For the better part of the 20th century the rivière St. Maurice in Quebec was considered one of the most polluted rivers in Canada; the most toxic concentration of which went through the 42m falls in the city of Shawinigan. Here, we see the falls and the mist with a vocal mix oscillating between a Greek chorus and a school for 'chemistry as a second language' listing a small portion of the toxic or benign chemicals, end products, by products and other compounds that may or may not have made their way into the river, but nonetheless contributed to the river's noxious reputation.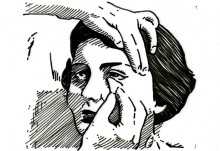 Mme Andalou – Aline Helmcke |2:16 | Germany Interacting hands and eyes – this is what it needs to animate a drawing. Through repetition and deliberate successive alternations, it is being set in motion. Without the intention of change or succession, the motive will change in an individual, unintended way when drawn repeatedly. Now the drawing leads the animator. Here, hands move across the face of a lady and seem to awaken it.
Nonobjective Cinema – Blanca Rego |2:15 | Spain A homage to 'Color Sequence' (1943) by Dwinell Grant, a research into color rhythms and perceptual phenomena. Images were generated from Grant's film through a data bending process. The soundtrack was composed from the same files saved as audio, so what you see is what you hear.
Nyan Cat (Psycho Cat) – Mauricio Sanhueza | 1:52 | Peru This is a psycho version of the mainstream icon named Nyan Cat. In a sarcastic way is a remix between this rainbow farting cat with slasher films and some human rights statements audio by many presidents around the world on 2014.
Parallel Botanies – Shunsaku Hayashi | 9:59 | Britain The form of a chimney follows its function. Modern houses have still kept chimneys for exterior decoration, even though they no longer work. Would the loss of one's function profoundly be the loss of itself? The film focuses on the ambiguity of internal presence and the autonomy of the representation over it; what can a skeuomorphic form represent, and is it still itself?
Picture Particles – Thorsten Fleisch | 5:45 | Germany Individual elements from a carrier of visual information have been isolated to construct alternative visual reagents. Repetition (in space and in time [and in moderation]) is administered as a binder to tame the wild particles in motion, evoking a golden ratio of the mind's eye.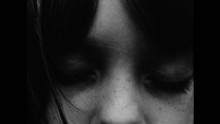 Portrait of Cecilia – Maura Wendelken | 4:45 | United States "A portrait of my daughter, Cecilia. The camera works as my eye, looking to her in her childhood. I look to her with the delicate balance between the intimacy of knowing and the distance of being the observer."
Post-Panoptic Gazing – Michael Wood | 10:00 | United States There is a syrup tasting carnivorous urge to conquer sexual ineptitude in overbearing glances and center the camera in the infinite void of consensual reflections of nothingness. But you will dance unlike you have ever danced before, with threads of everthing you know repackaged in metastatic digital packets of data rapidly going nowhere, blinking quickly into things outside the periphery of consciousness and knowledge towards digital sickness which thirsts for absolution. Not even the rabid gnashing of your teeth can escape the banal. Better to grin at the costumes floating about and accept the perpetual Post-Panoptic suspension.
Shhh – Alice Boutell | 2:49 | France Sand animation Poetry film – poem by Helen Jaeger, Voice by Chris Rose
Stillness Aline Helmcke | 5:08 | Germany A reportage photo of the daily news is constantly being drawn over and over again. Through the process of repetitive action and even without the intention of change or succession, the motive alters in an individual way. Over time, it looses its representational character almost unnoticeably. Instead, lines, dots and the distribution of white and black planes become the dominant elements.
Tape Loading Error – Sandra Araújo | 2:00 | Portugal Animation exploring the visual culture of video games and the spread of popular gif files. The imagery of Magritte's surrealist paintings gives a working platform for modular elements and texture, thus sharing, the action with layers that emulate lo-fi quality and bug / glitch images of early computer machines.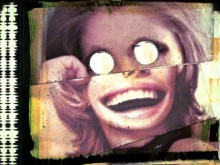 The Rapture – Michael Fleming | 5:00 | Britain A pulsating image bombardment about our pursuit to happiness and freedom of fear. A frame by frame hand manipulated 35mm celluloid collage film. The found footage is nourished by photo stills that were taken from various magazines, distorted and deformed. The surplus of images contain more than could be mentally processed and emphasizes our insatiable hunger to perpetual happiness.
Those Drawn Alive – Jukka-Pekka Jalovaara | 6:20 | Finland "Every autumn I get heavily moody. This is caused by the loss of the light. Last summer I heard a tune on the radio, called 'The House of the Rising Sun'. At once I was on a wintery road, in very low light, having an impossible opponent against me – Lee Van Cleef."
Trapped Between Frames – Nazare Soares | 9:51 | Britain A human silhouette walks trapped between the frames of stereoscopic cave and woods scenarios. The historic character trapped between frames is Amaterasu – Japanese mythology refers to her as the sun goddess. The film is named after one of the hexagrams from the I Ching, the ancient book of change, an oracle in Taoist philosophies. The film is taken from 'Ming I Darkening of the Light', a stereoscopic film installation inspired by a pre-cinematic stereoscopic display, The Kaiser-Panorama made in 1883 by August Fuhrmann. Made in collaboration with sound artists,Laila Hansen and Andrew Stuart-Buttle.
Untitled (Translation 1) – Graham Dunning | 8.44 | Britain Using multiple layers of audio and video to create a hypnotic, spiralling montage, evoking a dystopian dream sequence or meditative state. This is part of a series of Video Drone work: layered footage of looping events, collage, reflections, optical effects, 'sampled' video and analogue treatments. The audio is from the filmmaker's 'Music By The Metre' project: automated music made from tape loops, stuck records, analogue synth and environmental sound.
Within – Natália Azevedo Andrade | 3:00 | Portugal A dancer loses her rhythm. An expedition through the interior of fear, guilt and shame.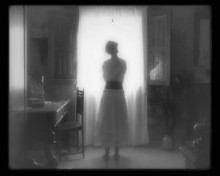 You won't come back – Hernán Talavera | 3:30 | Spain From a poem by Alfonsina Storni, from his book 'Poems of Love' written in 1926 immediately after an unhappy love affair. In the beginning of the book, the poet warns: "These poems are simple phrases of love states written in a few days, some time ago. This small work is neither a literary work nor claims it". After 'Poems of Love', Storni kept silent for nine years.